NTT DOCOMO | FUTURE-EXPERIMENT VOL.01 REDEFINING DISTANCE
NTT DOCOMO plans to commercially operationalize next-generation 5G mobile communications by 2020.
To convey the potential of NTT DOCOMO's 5G communications (high speed, large capacity, low latency), the product 5G itself was used to live stream content as a verification experiment and the potential was verified through brand experience.
As for first part of this project, we've conducted "VOL.01 REDEFINING DISTANCE" in collaboration with Perfume, a world-renowned artist.
17 years passed since Perfume was formed. They have always been together but the three girls performed on different stages for the first time.
Cities of TOKYO, NY, and LONDON.
We've connecting these three places over 10,000 km apart from each other, the communications technology combines three respective performances into one without time lag.
NTT DOCOMO built an ultra-high-speed, low-latency network with "5G" technology between three cities.
Furthermore, by using NTT Group's media synchronization technology called "Advanced MMT", the images and sounds of 14 cameras in each three cities are synchronized at three levels in terms of network, transmission, and video processing. Without time lag, we realized dance performance which integrated three spaces into one screen, and carried out the live performance to the whole world via the project website.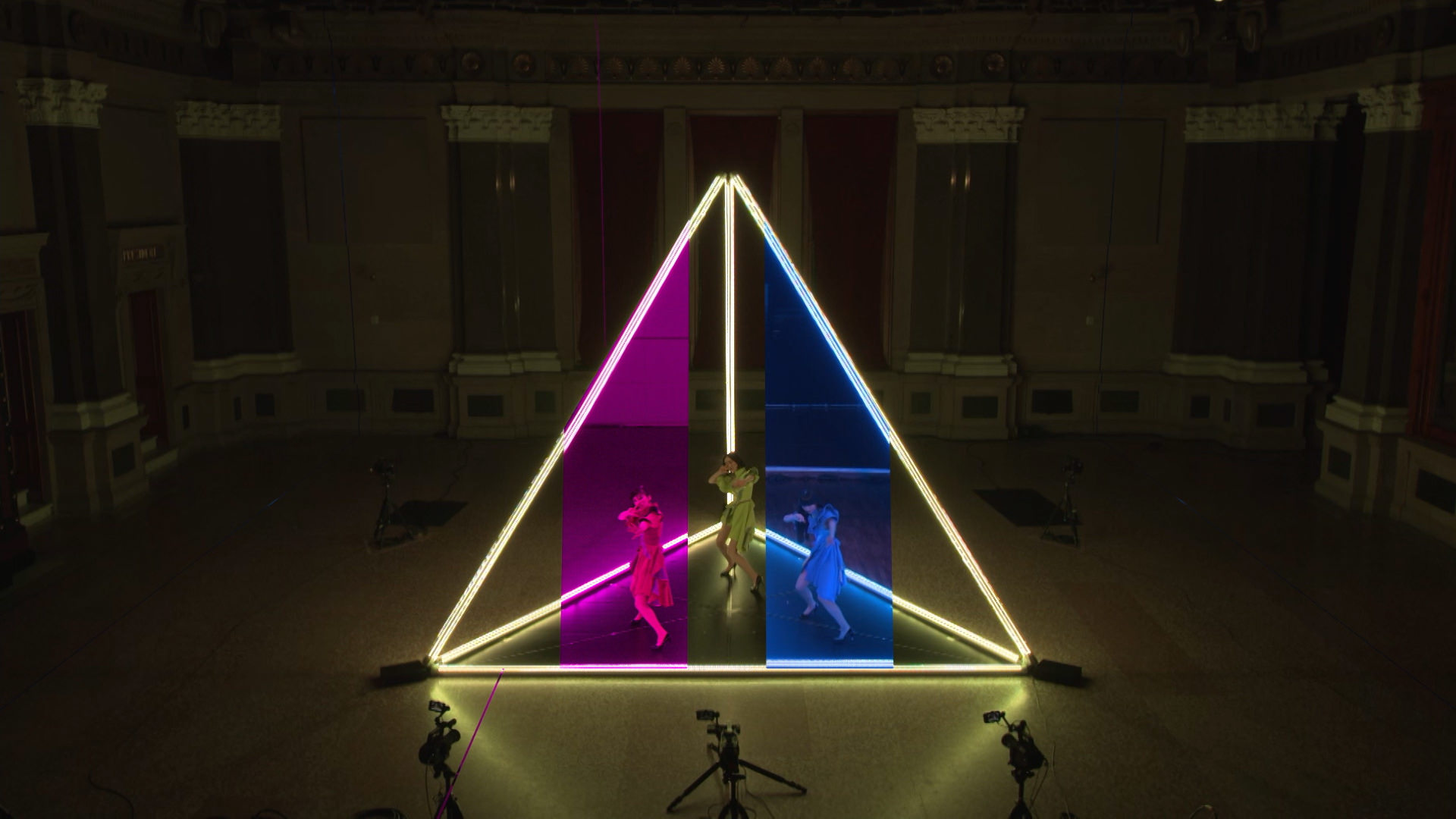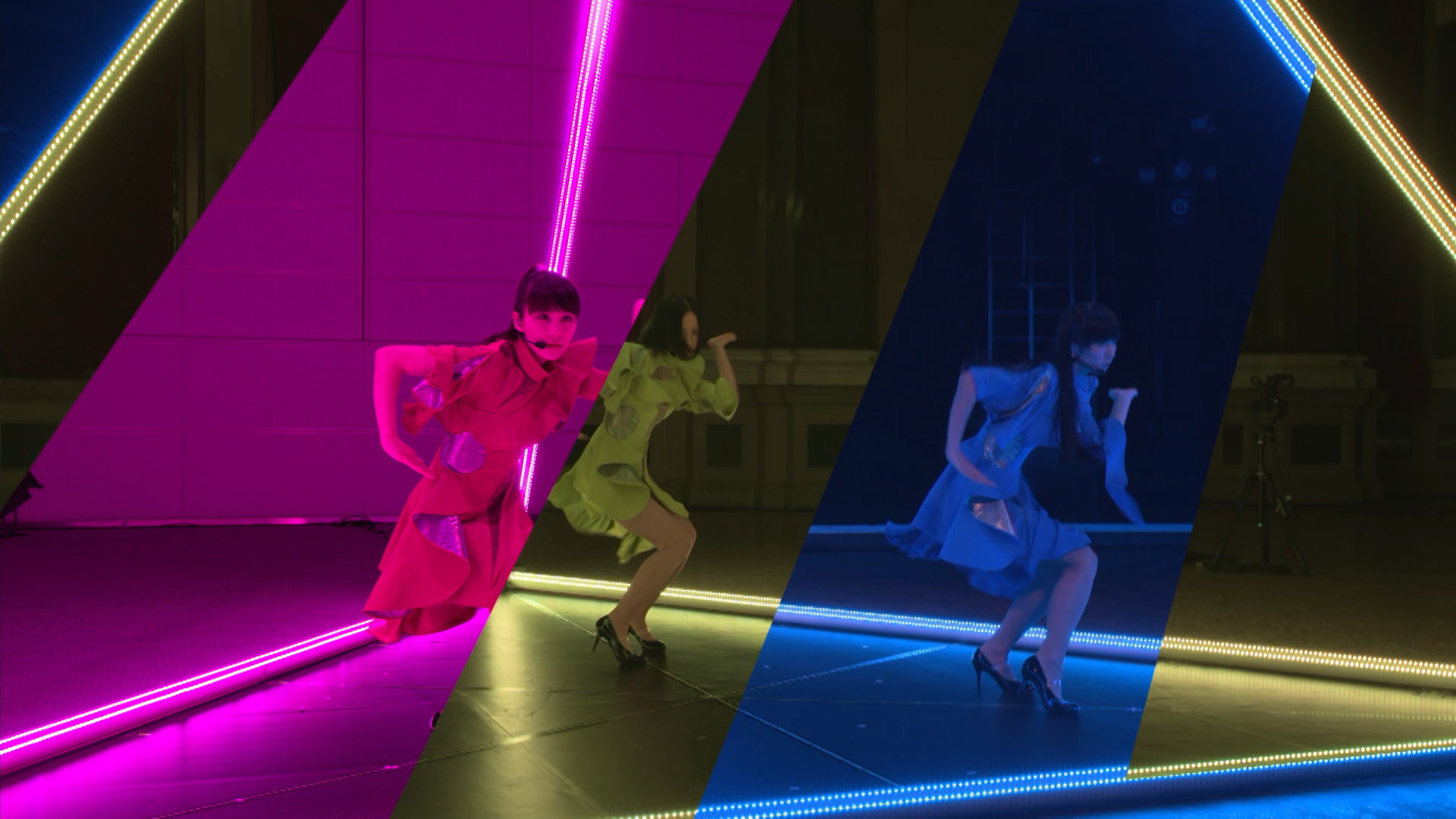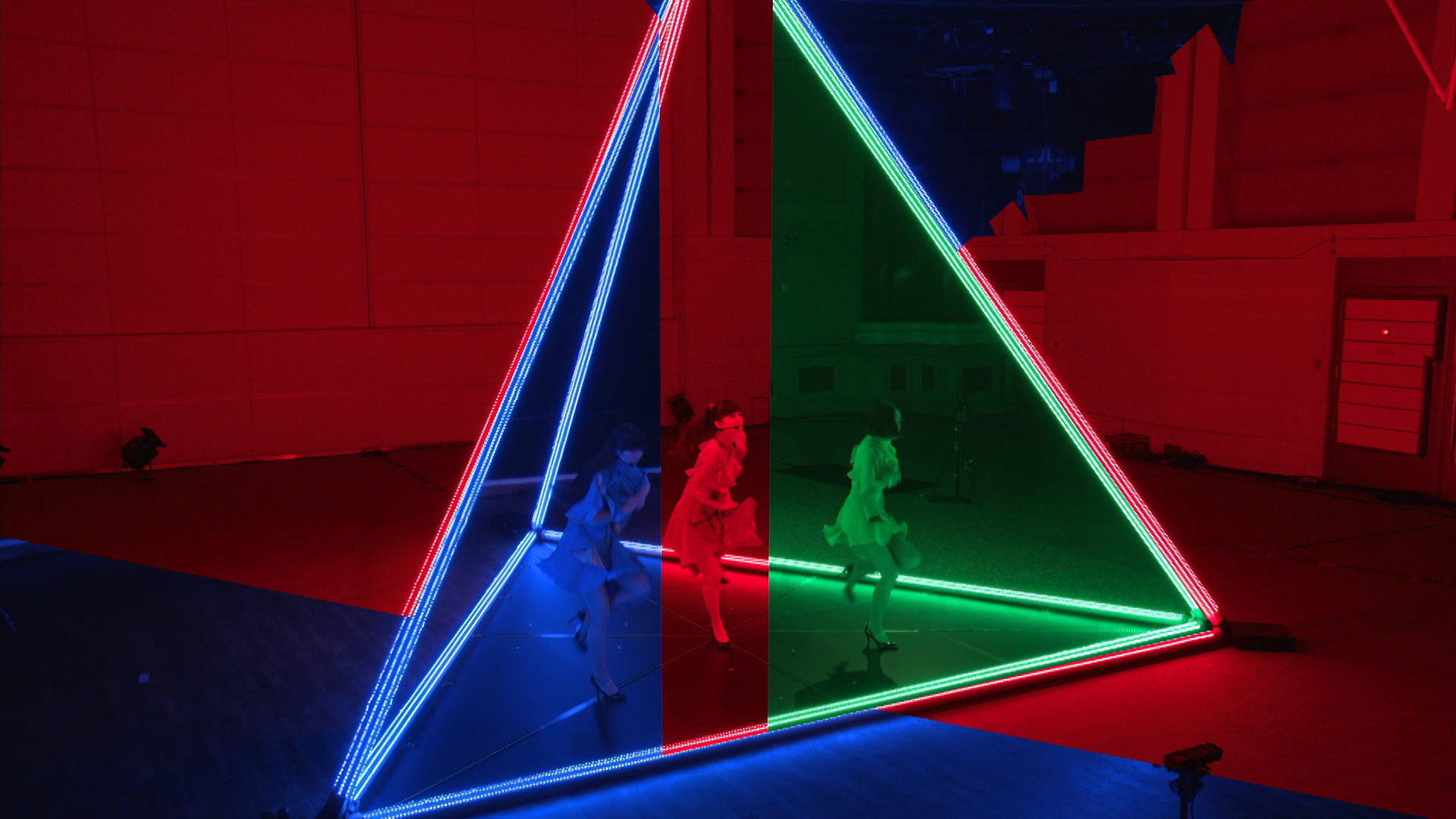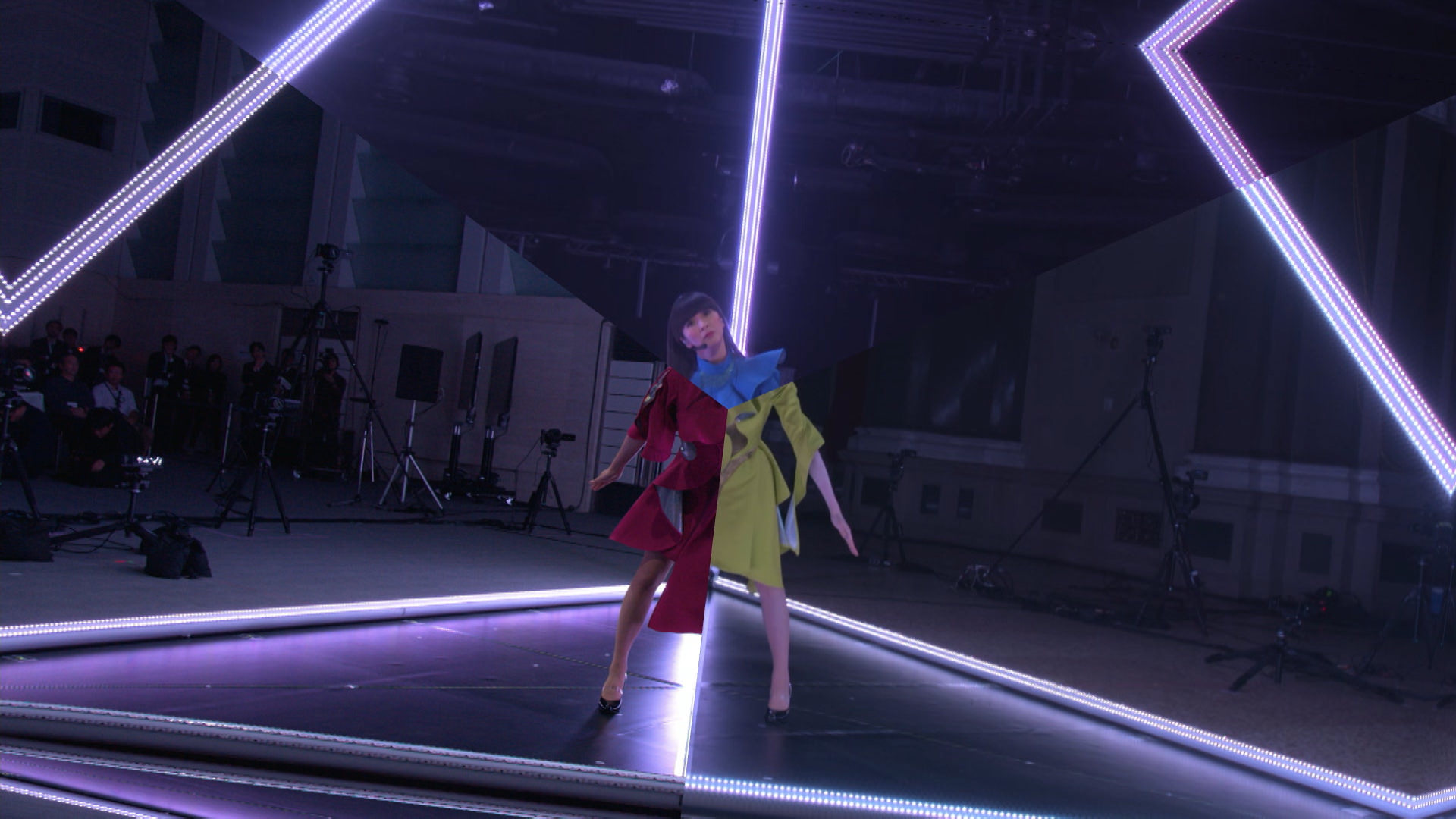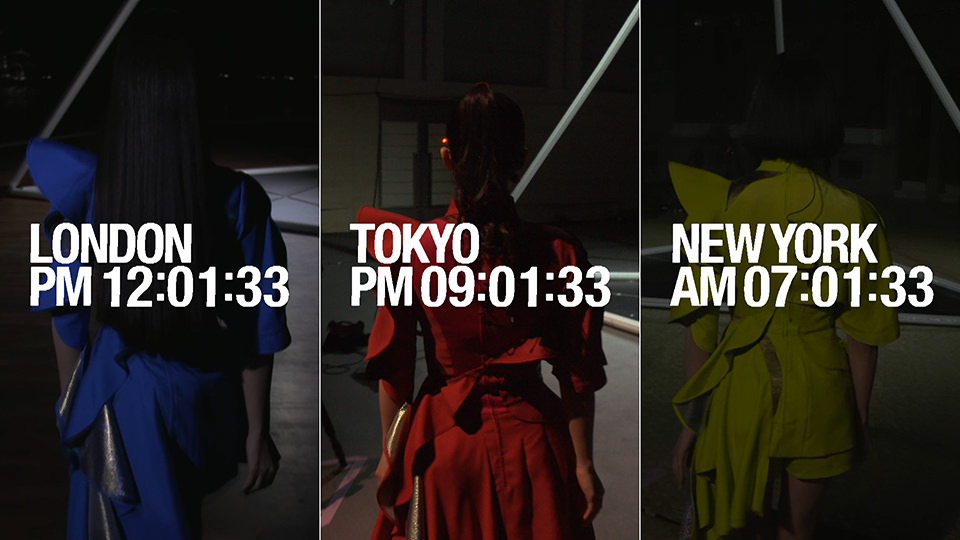 Credit

●TOTAL PLANING
○Creative team
Creative Director: Kaoru Sugano(Dentsu Lab Tokyo)|Planner: Sotaro Yasumochi(Dentsu Lab Tokyo)|Copy Writer:Kana Koyama(DENTSU INC.)|Art Director: Yuri Uenishi(DENTSU INC.)|Creative Supervisor: MIKIKO(ELEVENPLAY)|Chief Creative Producer: Hikaru Ikeuchi(Dentsu Lab Tokyo)|Creative Producer: Kohei Ai(Dentsu Lab Tokyo)|Producer: Takahiko Kajima(P.I.C.S.)/Ryo Ikeda(P.I.C.S.)|Production Manager:Haruka Tanji(P.I.C.S.)

○Account team
Accout Executive: Kyo Katayama(DENTSU INC.)|Accout Executive: Mitsuru Kamiya(DENTSU INC.)|Accout Executive: Takehiro Yamato(DENTSU.INC)|Accout Executive: Naoki Tanaka(DENTSU.INC)|Casting:Yukiko Matsuzaki(Dentsu Music and Entertainment)

○Artist & Casting team
Artist: a-chan(Perfume)|NOCCHi(Perfume)|KASHIYUKA(Perfume)
Artist Management: Amuse
Label: Universal Music

●GRAPHIC
Photograher: Kyoji Takahashi|Stylist:Toshio Takeda(MILD inc.)|Hair: Yuki Shimajiri|Make:Masako Osuga|Retouch: Takuya Tsugane(amana digital imaging inc.)|Designer:Yuri Yoshida|Designer:Toshinori Ohbuchi(J.C.Spark)|Designer:Sari Ogino(J.C.Spark)|Designer:Rikito Fujitani(J.C.Spark)|Agency Producer:Hitomi Omoto(DENTSU CREATIVE FORCE INC.)|Agency Producer:Shuntaro Yoshii(DENTSU CREATIVE FORCE INC.)|Print:Emiko Kawashima(SEIBIDO)

●TEASER MOVIE/COUNTDOWN MOVIE
Edit/Motion Graphics:Koji Aramaki|DP:Kei Fujita|Gaffer:Yusuke Nakazawa|DIT:Taito Oyama(progressive)|Stylist:Toshio Takeda(MILD inc.)|Hair:Yuki Shimajiri|Make:Masako Osuga|Colorlist:Yoshirou Kamei(SONY PCL)|Composer:evala|

●WEB SITE
Artdirector/Designer:Hiroyasu Kimura(Rhizomatiks Design)|Frontend Engineer:Hirofumi Tsukamoto(Rhizomatiks Design)|Technical Director:Tatsuya Takemasa(Rhizomatiks Design)|Backend Engineer:Hajime Sasaki(MountPosition Inc.)Backend Engineer:Shunsuke Shiino(MountPosition Inc.)|Agency Producer:Kimihiro Takano(DENTSU INC.)

●LIVE EVENT
○OPENING MOVIE
Director:Kazuaki Seki(koe Inc.)|Shooting Dir:Kenji Tomita (triple-O)|Shooting Dir :Takayuki Hayashi|DP:Hiroyuki Yabe|DP:KIYO|DP:Shinichi Adachi|Gaffer:Issey Tada|Stylist:Toshio Takeda(MILD inc.)|Fitter:Chikako Sadogawa||Hair Make:Yuki Shimajiri|Make:Minako Suzuki|Hair Make :Masako Osuga|Hair CG designer:Koki Okuyama(1inc.)|CG producer:Akira Iio(1inc.)|motion graphics:Koji Aramaki|OFFLINE editer:Ryo Sugie|ONLINE editer:Shunsuke Kakuuchi|Colorlist:Takahito Kurobe|Composer:evala|Agency Producer:Kiyoshi Kanekiyo(DENTSU CREATIVE FORCE INC.)|Producer:Grace Kawahara(Mt. MELVIL)|Producer:Mikiko Murata(Mt. MELVIL)|Production Manager:Sohei Harada(P.I.C.S.)|Production Manager:Taiki Nishimura(P.I.C.S.)|Production Manager:Carol Lewisburg|Production Manager:Louis Baron(The Good Film Company)

○LIVE STREAM BROADCASTING
Technical Director:Yasuhiko Nishimura(Dentsu Lab Tokyo)|Producer:Ryo Nagasawa(DENTSU TEC INC.)|Producer:Shun Aoki(DENTSU LIVE INC.)|Producer:Tsuyoshi Kanekiyo(DENTSU CREATIVE FORCE INC.)|Producer:Ayako Hiramoto(DENTSU TEC INC.)|Producer:Mikiko Murata(Mt. MELVIL)|Co-Producer:Yanina Berry(The Good Film Company)|Co-Producer:Maho Takada(DENTSU TEC INC.)|Production Manager:Carol Lewisburg|PR Planner:Hironobu Hoshida(DENTSU INC.)|PR Planner:Yasuharu Sueki(DENTSU INC.)|5G R&D Director:Takehiro Nakamura(NTT DOCOMO, INC.)|5G R&D Manager:Atsushi Harada(NTT DOCOMO, INC.)|5G R&D Engineer:Kiichi Tateishi(NTT DOCOMO, INC.)|Engineer:Taichi Katayama(NTT DOCOMO, INC. )|Engineer:Ryohei Makino(NTT DOCOMO, INC. )|Network R&D Director:Shingo Kinoshita(Nippon Telegraph and Telephone Corporation)|Network R&D Producer:Kazunari Moriuchi(Nippon Telegraph and Telephone Corporation)|Network R&D Producer:Takashi Moyatake(Nippon Telegraph and Telephone Corporation)|Network R&D Producer:Soichiro Usui(Nippon Telegraph and Telephone Corporation)|Network R&D Producer:Junji Watanabe(Nippon Telegraph and Telephone Corporation)|Network R&D Manager (Advanced MMT):Akira Ono(Nippon Telegraph and Telephone Corporation)|Network R&D Engineer (Advanced MMT):Tetsuya Yamaguchi (Nippon Telegraph and Telephone Corporation)|Network R&D Engineer (Advanced MMT):Koji Nanba(Nippon Telegraph and Telephone Corporation)|Network R&D Engineer (Advanced MMT):Tomokazu Yamada(NTT TechnoCross Corporation)|Network R&D Engineer (Advanced MMT):Hirotaka Utsumi(NTT TechnoCross Corporation)|Network R&D Engineer (Advanced MMT):Shiichiro Fujimura(NTT TechnoCross Corporation)|Network R&D Engineer (Advanced MMT):Wang MaoYu(ShineSoft Co.,Ltd.)|Network R&D Engineer (Advanced MMT):Yudai Takizawa(Heart Soft Co.,Ltd.)|Network R&D Engineer (Global NW):Katsumi Tanaka(Nippon Telegraph and Telephone Corporation)|Network R&D Engineer (Global NW):Hikaru Takenaka(Nippon Telegraph and Telephone Corporation)|Network R&D Engineer (Global NW):Ryushiro Minematsu(NTT Advanced Technology Corporation)|Network R&D Engineer (Global NW):Keisuke Obitsu(NTT Advanced Technology Corporation)|Network R&D Engineer (Global NW):Kenichiro Hirata(NTT Advanced Technology Corporation)|Network R&D Engineer (Global NW) Yukihiro Toki(NTT Advanced Technology Corporation)|Network R&D Engineer (Advanced MMT) :Takuma Tokuue(NTT TechnoCross Corporation)|Network R&D Engineer (Advanced MMT) :Kouichi Furukado(NTT Service Innovation Laboratory Group)|Network R&D Engineer (Advanced MMT) :Satoshi Kurosaka(NTT TechnoCross Corporation)|Network R&D Engineer (Advanced MMT) :Liu Jian(ShineSoft Co.,Ltd.)|Network R&D Engineer (Advanced MMT) :Motohiro Noguchi(Global Ace Co.,Ltd.)|Network R&D Manager (Global NW):Kiyoshi Tanaka(NTT Service Innovation Laboratory Group)|Network R&D Engineer (Global NW):Akira Segawa(NTT Advanced Technology Corporation)|Network R&D Engineer (Global NW):Yukinori Taguchi(NTT Advanced Technology Corporation)|Network R&D Engineer (Global NW):Takuya Iwami(Nippon Telegraph and Telephone Corporation)|Network R&D Engineer (Global NW):Hisao Uose(Vision Bridge, LLC.)|Network R&D Engineer (Global NW):Junichi Nakagawa(NTT Advanced Technology Corporation)|Technical Management:Ryo Fukutani(AT Linkage Inc.)|System Engineering/Engineering:Takumi Ikeda(Takumi Onkyo)|Video Engineering:Tsukasa Ishii(AT Linkage Inc.)|Video Switching:Takashi Kobayashi(SWISH JAPAN Inc.)|CG Operation:Naomi Chikazawa(AT Linkage Inc.)|Replay Operation:Noriko Kato(Tokyo Sound Production Inc.)|Audio Mixing:Tatsuyuki Goto(SWISH JAPAN Inc.)|Video Transmission/Network Engineering:Tsutomu Sano(AT Linkage Inc.)|Intercom Management/Engineering:Isao Onogi(TO GO)|Intercom Operation:Tunanobu Yamamoto|Technical Coordinator/Interpreter:Yuki Tsujimura(AT Linkage Inc.)|Technical Coordinator/Interpreter:Yukiko Yamamoto|Programmer:Takahisa Senaga(Arial)


○Live Performance
MUSIC:Yasutaka Nakata|Live Director & Choreographer:MIKIKO(ELEVENPLAY)|Planning & Visual Director & Visual System Designer & Lighting Programmer & Visual System Operator:Daito Manabe(Rhizomatiks Research)|LED Device Designer and Developer & Visual System Operator:Motoi Ishibashi(Rhizomatiks Research)|Synchronous System Designer & Visual System Developer & Visual System Operator:Yuya Hanai(Rhizomatiks Research)|LED Device Developer & Visual System Operator:Momoko Nishiyama(Rhizomatiks Research)|LED Device Developer & Visual System Operator:Kyohei Mouri|LED Device Developer & Visual System Operator:Rina Yasukouchi|LED Device Developer & Visual System Operator:Toshidaka Mochidzuki(Rhizomatiks Research)|LED Device Developer & Visual System Operator:Saki Ishikawa(Rhizomatiks Research)|LED Device Developer & Visual System Operator:Tatsuya Motoki(Rhizomatiks Research)|LED Device Developer & Visual System Operator:Tomoaki Yanagisawa(Rhizomatiks Research)|Visual Programmer & Visual System Operator:Satoshi Horii(Rhizomatiks Research)|Visual Programmer & Visual System Operator:Yo Tanaka(Rhizomatiks Research)|Synchronous System Developer & Visual System Operator:Ryohei Komiyama(Rhizomatiks Research)|Camera Engineer & Visual System Operator:Muryo Honma(Rhizomatiks Research)|Project Manager & Producer|Visual System Operator:Setsuya Kurotaki(Rhizomatiks Research)|Visual System Operator:Kenichi Kabeya|Producer & Project Manager & Visual System Operator:Takao Inoue(Rhizomatiks Research)|Stage Manager:Spike Minami(BOATMAN)|Stage Manager:Jun Sato(BOATMAN)|Stage Manager:Masahiko Uchiyama(BOATMAN)|Props Manager:Hidenori Otomo(Shimizu Octo)|P.A.:Masahiko Kobayashi(MSI-JAPAN)|P.A.:Mai Kurahashi(MSI-JAPAN)|P.A.:Hironari Kamiya(MSI-JAPAN)|Lighting Designer:Sachiko Matsui(SWEET STUFF GROUP)|Projection System:Eji Yamada(Transwork)|Projection System :Itsuka Sugawara(Transwork)|Live Shooting:Hirotaka Nanbu(Visual Signs)|Live Shooting:Kenji Koyasu(club c's entertainment)|Live Shooting:Keita Hara(club c's entertainment)|Live Shooting:Midori Takahashi(club c's entertainment)|Costume Design / Stylist:Toshio Takeda(MILD inc.)|Fitter:Chikako Satogawa|Hair Make:Yuki Shimajiri|Hair Make:Minako Suzuki|Hair Make:Masako Osuga|Assistant Choreographer:NON(ELEVENPLAY)|Assistant Choreographer:ERISA(ELEVENPLAY)|Assistant Choreographer:SAYA(ELEVENPLAY)|Technical support:Shintaro Kamijyo(Rhizomatiks Research)|Technical support:Tomoyo Obata(Rhizomatiks Research)|CG Director:Tesuka Niiyama(+Ring/TAIYO KIKAKU Co., Ltd.)|CG Producer:Toshihiko Sakata(+Ring/TAIYO KIKAKU Co., Ltd.)|CG Producer:Yasuhito Takahashi(QUINO GRAFIX)|CG Designer:Yasuhito Mtsuyama(+Ring/TAIYO KIKAKU Co., Ltd.)|CG Designer:Junichi Ebe|CG Designer:Tetsuro Takeuchi(QUINO GRAFIX)