NTT DOCOMO | FUTURE-EXPERIMENT VOL.02 Expanding the Viewpoint
As for second part of this project, we've conducted a live streaming of the wheelchair fencing special exhibition match by Mr. Yuki Ota, the gold medalist of 2015 fencing world championship and Ms. Beatrice Maria "Bebe" Vio, the world champion of wheelchair fencer. By doing this match, we've performed "VOL.02 Expanding the viewpoint" which enables you to watch the multi-viewpoint switching events.
To convey the potential of NTT DOCOMO's next-generation mobile communications (high speed, large capacity, low latency), we realized to let people to experience the switching images of nine cameras freely in real time by using the multi-terminal connection.
By switching various viewpoints which could not see in the past in terms of sports watching, it makes possible to obtain a completely new viewpoint, such as delicate movements behind large movements and techniques that even players themselves did not notice with this multi-view switching.
We expanded the viewers' experiences that enables them to switching viewpoints freely while watching it through the user's devices such as PC, smart phone, tablet while it distributes as live streaming,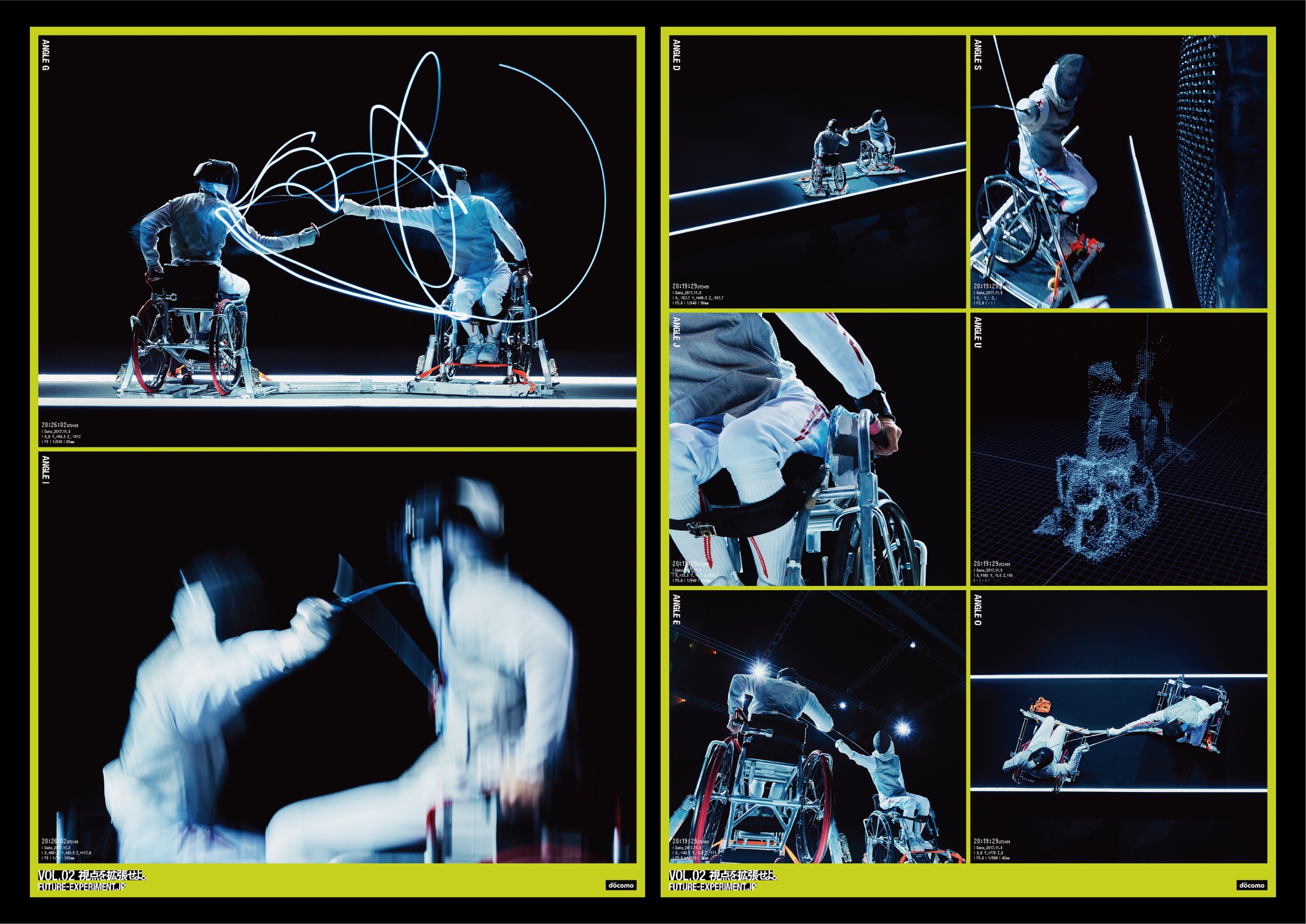 Credit

●TOTAL PLANING
Creative team
Creative Director:Kaoru Sugano(Dentsu Lab Tokyo)|Planner:Sotaro Yasumochi(Dentsu Lab Tokyo)|Copy Writer:Kana Koyama(DENTSU INC.)|Art Director:Yuri Uenishi(DENTSU INC.)|Planner:Kazuyoshi Ochi(Dentsu Lab Tokyo)|Planner:Ryosuke Sone(Dentsu Lab Tokyo)

Chief Creative Producer:Hikaru Ikeuchi(Dentsu Lab Tokyo)|Creative Producer:Kohei Ai(Dentsu Lab Tokyo)|Creative Producer:Akiyo Ogawa(Dentsu Lab Tokyo)|Creative Producer:Yasuharu Sueki(DENTSU INC.)|Creative Producer:Kimihiro Takano(DENTSU INC.)|Producer:Takahiko Kajima(P.I.C.S.)|Producer:Ryo Ikeda(P.I.C.S.)|Production Manager:Taiki Nishimura(P.I.C.S.)|Production Manager:Haruka Tanji(P.I.C.S.)

Account team
Accout Exctive:Kyo Katayama(DENTSU INC.)|Accout Exctive:Mitsuru Kamiya(DENTSU INC.)|Accout Exctive:Takehiro Yamato(DENTSU INC.)|Accout Exctive:Tomoyuki Tanaka(DENTSU INC.)|Accout Exctive:Naoki Tanaka(DENTSU INC.)|Casting:Yukiko Matsuzaki(Dentsu Music and Entertainment)

Cast & Casting team
Cast:Yuki Ota
Cast:Beatrice Vio

Management:Yoshihisa Fukuoka(WIN3)
Casting:Juliet Adelstein(DENTSU Sports Europe,Ltd.)

●Graphic
Photograher:Ryohei Takanashi(acube)|Making Camera:Naoya Suzuki|Technical:Go Sato(ループ工房)|Drone:Akio Watanabe(Rave project inc.)|Grip:Seido Hirabayashi|Kinect:Ryohei Komiyama(Rhizomatiks Research)|Digital Producer:Takao Inoue(Rhizomatiks Research)|CG:Akira Iio(1 inc.)|CG:Shigeo Jahana(1 inc.)|Retouch:Takuya Tsugane(amana digital imaging inc.)|Retouch:Masaru Okuyama(amana digital imaging inc.)|Designer:Yuri Yoshida|Designer:Toshinori Ohbuchi(J.C.Spark)|Designer:Sari Ogino(J.C.Spark)|Designer:Rikito Fujitani(J.C.Spark)|Agency Producer:Hitomi Omoto(DENTSU CREATIVE FORCE INC.)|Print:Emiko Kawashima(SEIBIDO)

●WEB teaser movie
Director of Photography:RyoheiTakanashi(acube)|Gaffer :Ryosuke Kokubo|Digital Imaging Technician:Satoshi Igarashi|Editer:Ayumi shibuya(IEMOTO.)|Drone:Akio Watanabe(Rave project inc. )|Grip:Seido Hirabayashi|Kinect:Ryohei Komiyama(Rhizomatiks Research)|Producer:Takao Inoue(Rhizomatiks Research)|CG:Akira Iio(1 inc.)|CG:Shigeo Jahana(1 inc.)|Colorist:Takuya Tsugane(amana digital imaging inc.)|Colorist:Masaru Okuyama(amana digital imaging inc.)|Designer:Yuri Yoshida|Designer:Toshinori Ohbuchi(J.C.Spark)|Designer:Sari Ogino(J.C.Spark)|Designer:Rikito Fujitani(J.C.Spark)|Motion Graphics:Koji Aramaki|Composer:evala

●WEB SITE
Art Director/Designer:Hiroyasu Kimura(Rhizomatiks Design)|Frontend Engineer:Hirofumi Tsukamoto(Rhizomatiks Design)|Technical Director:Tatsuya Takemasa(Rhizomatiks Design)

●LIVE STREAMING
Event site + Live distribution
Technical Director:Yasuhiko Nishimura(Dentsu Lab Tokyo)|Agency Producer:Jun Kato(Dentsu Lab Tokyo)|Producer:Ryo Nagasawa(DENTSU TEC INC.)|Producer:Hiroki Gedo(DENTSU LIVE INC.)|Production Maneger:Yuji Aoyagi(DENTSU LIVE INC.)|Production Maneger:Haruka Saiki(DENTSU LIVE INC.)

5G R&D Director:Takehiro Nakamura(NTT DOCOMO, INC.)|5G R&D Manager:Atsushi Harada(NTT DOCOMO, INC.)|5G R&D Engineer:Taichi Katayama(NTT DOCOMO, INC.)|5G R&D Engineer:Shosuke Nakamura(NTT DOCOMO, INC.)|5G R&D Engineer:Seiya Inamura(NTT DOCOMO, INC.)|5G R&D Engineer:Keisuke Takano(NTT DOCOMO, INC.)

Network R&D Director:Shingo Kinoshita(NTT Service Innovation Laboratory Group)|Network R&D Producer:Takashi Miyatake(NTT Service Innovation Laboratory Group)|Network R&D Producer:Kouichi Furukado(NTT Service Innovation Laboratory Group)|Network R&D Manager (Advanced MMT):Akira Ono(NTT Service Innovation Laboratory Group)|Network R&D Engineer (Advanced MMT):Tetsuya Yamaguchi(NTT Service Innovation Laboratory Group)|Network R&D Engineer (Advanced MMT):Koji Namba(NTT Service Innovation Laboratory Group)|Network R&D Engineer (Advanced MMT):Tomokazu Yamada(NTT TechnoCross Corporation)|Network R&D Engineer (Advanced MMT):Hirotaka Utsumi(NTT TechnoCross Corporation)|Network R&D Engineer (Advanced MMT):Liu Jian(ShineSoft Co.,Ltd.)|Network R&D Engineer (Advanced MMT):Wang MaoYu(ShineSoft Co.,Ltd.)

Network R&D Manager (NW):Masakazu Urata(NTT Service Innovation Laboratory Group)|Network R&D Engineer (NW):Hikaru Takenaka(NTT Service Innovation Laboratory Group)|Network R&D Engineer (NW):Ryushiro Minematsu(NTT Advanced Technology Corporation)|Network R&D Engineer (NW):Keisuke Obitsu(NTT Advanced Technology Corporation)|Network R&D Engineer (NW):Akira Segawa(NTT Advanced Technology Corporation)

Technical Planner:Ryo Fukutani(AT Linkage Inc.)|Technical Manager:Naomi Chikazawa(AT Linkage Inc.)|Technical Director:Tsukasa Ishii(AT Linkage Inc.)|Network Engineer:Tsutomu Sano(AT Linkage Inc.)|System Engineer:Takumi Ikeda(Takumi Onkyo)|Video Engineer:Souta Yamanaka(SWISH JAPAN)|Video Engineer:Jun Atsumi(NISHIO RENT ALL CO.,LTD.)|Audio Mixer:Tatsuyuki Goto(SWISH JAPAN INC.)|Technical Assistant:Misaki Kondo(SWISH JAPAN INC.)|Video Switcher:Michinori Hayashi(Brains)|SlowReplay Director:Yoshiaki Muto()|SlowReplay Chief Operator:Hajime Kayama(Tisman Service Co.,Ltd.)|SlowReplay Operator:Noritsugu Moriguchi(Brains)|SlowReplay Operator:Miho Wakamiya(KYODO TELEVISION,LTD.)|SlowReplay Operator:Noriko Kato(Tokyo Sound Production Inc.)|SlowReplay Planner:Tsutomu Nakayama(PHOTRON LIMITED)|Production Manager:Hirotaka Totsu(AT Linkage Inc.)|Production Manager:Yuki Tsujimura(AT Linkage Inc.)|Production Manager:Saori Sugimura|MultiAngle Streaming System Director:Yuji Uehara(Gnzo.inc.)|MultiAngle Streaming System Engineer:Yasuhiko Takano(Gnzo.inc.)|Props Manager:Taro Hasegawa(Shimizu Octo)|Props Manager:Katsunari Shinomiya(Shimizu Octo)|Props Manager:Keiichi Ishikawa(Shimizu Octo)|Stage design:Mayuko Haraki(Shimizu Octo)|stage director:Daisuke Kondo(T2 Creative Co., Ltd.)|stage manager:Mana Kuwasawa(T2 Creative Co., Ltd.)|stage manager:Kenji Takashima(BARREL)|lighting planner:Akihiro Yoshimura(ABC)|lighting planner:Akira Takamatsu(KOMADEN CORPORATION)|sound engineer:Akihito Kimura(SOUND ACTION Ltd.)|Visual system Oparator:Fumio Hagiwara(Hibino Corporation)

Programmer System Operator:Sadam Fujioka(anno lab)|Technical Assistant :Nariaki Iwatani(anno lab)|Programmer:Takahisa Senaga(DENTSU CREATIVE X INC.)

Points of a sword visualization system
Planning Creative Director:Daito Manabe(Rhizomatiks Research)|Technical Director Programmer:Motoi Ishibashi(Rhizomatiks Research)|System Engineer:Yuya Hanai(Rhizomatiks Research)|System Developer:Ryohei Komiyama(Rhizomatiks Research)|Visual Programmer:Satoshi Horii(Rhizomatiks Research)|System Operator:Muryo Honma(Rhizomatiks Research)|System Operator Craft:Toshitaka Mochizuki(Rhizomatiks Research)|System Operator Craft:Saki Ishikawa(Rhizomatiks Research)|System Operator:Hideaki Tai(Rhizomatiks Research)|Project Manager Producer:Takao Inoue(Rhizomatiks Research)

OPENING MOVIE
Director:Kenjiro Matsuoka(NANAME INC.)|CG Director:Yusuke Miyairi(NANAME INC.)|CG Producer:Taiga Watanabe(NANAME INC.)|Motion Graphicer:Kazuhiro Hata(NANAME INC.)|CG Modeler:Ryohei Kona(NANAME INC.)|Designer:Momoko Ishida(NANAME INC.)

●CM / Project Movie
Director:Yusuke Takuno(P.I.C.S.)|Director of Photography:Miki Ogawa(Triforce)|Camera Operator:Sakura Seno(TERAOKA OFFICE co.,ltd.)|Camera Operator:Yuta Nakayama|Camera Operator:Naohito Maeda|Grip:Takashi Mikami(Rocket inc.)|Digital Imaging Technician:Satoshi Igarashi|Digital Imaging Technician:Kazuhiko Takahashi(Endless)|Gaffer:Takamichi Fujita(OFFICE DOING)|Making Camera:Naoya Suzuki|Making Camera:Riu Nakamura(un.inc)|CG:Akira Iio(1 inc.)|CG:Shigeo Jahana(1 inc.)|Motion Graphics:Koji Aramaki|Composer:evala